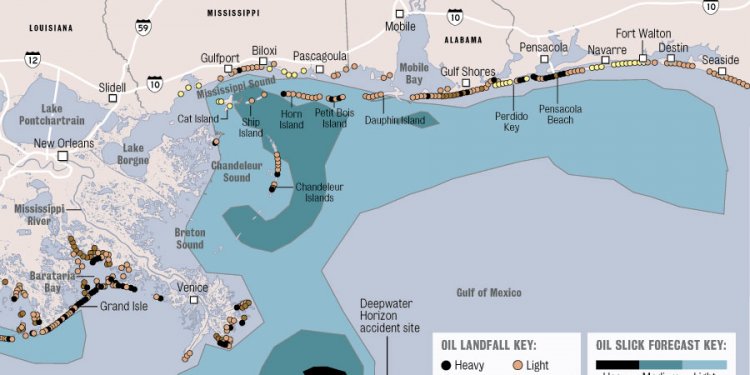 Deepwater Horizon oil spill map
Different sorts of maps had been produced through the reaction, on the basis of the needs for the response group:
Cumulative Trajectory Maps: Cumulative trajectory maps had been produced at the beginning of the Deepwater Horizon spill reaction. They revealed on a single map the outer lining area of spilled oil for a number of consecutive times, along with a forecast the after time. As part of water impacted by the spill grew bigger, the forecast facet of these maps became much more essential than the day-to-day changes in surface oil, so the next trajectory services and products included only forecasts. The collective maps were created from April 26 through might 6 (except April 27), 2010.
Nearshore Surface Oil Forecasts: Nearshore forecasts all day and night, 48 hours, and 72 hours were produced for surface oil inside nearshore (in other words., off to the continental slope, perhaps not typically affected by the Loop present system) to guide everyday response planning. These forecasts continued to be produced until no recoverable oil had been noticed in overflights for the area for around three weeks. These maps were produced from April 30 through August 23, 2010.
Offshore Surface Oil Forecasts: In mid-May, when a "tail" of oil entered the north the main Loop active, it created a potential path for oil to-be transported on Florida Keys, Cuba, or the Bahamas. With this specific change in the scale regarding the trajectory forecasts, OR&R started creating forecasts for just two regions: nearshore and overseas. The offshore forecasts additionally supported day-to-day response planning, predicting where surface oil relying on the Loop active system would-be within the next 24, 48, and 72 hours. Weeks later, whenever recoverable oil ended up being not any longer observed in overflights or satellite analyses in this area, the offshore forecasts had been eliminated. These maps were made out of May 18 through Summer 17, 2010.
Loop Current Location in accordance with Oil Slick: In mid-July, OR&R started creating maps to produce daily changes for the location of the Loop active as well as its significant eddies, additionally the area of drifting oil in accordance with the Loop active system. After more than 30 days of daily mapping, overflights and satellite analyses in the course of time showed no recoverable oil in this area, therefore the danger of oil being transported by the Loop active diminished. These maps had been created from July 15 through August 23 (except August 14 and 15), 2010.
Share this article
Related Posts